Regular price
$803.98 CAD
Regular price
Sale price
$803.98 CAD
Unit price
per
Sale
Sold out
Pay in installments with
Why buy from Stethoscope.ca?

Stethoscope.ca supplies medical professionals, medical centers, medical/nursing students, businesses and home users.

No minimum order
Wide range of payment types accepted
No delay Laser Engraving
Choose shipping from UPS, Canada Post
Tracking by email and SMS.

Need some advice? Speak to our friendly team on 1-877-301-0047
Share
View full details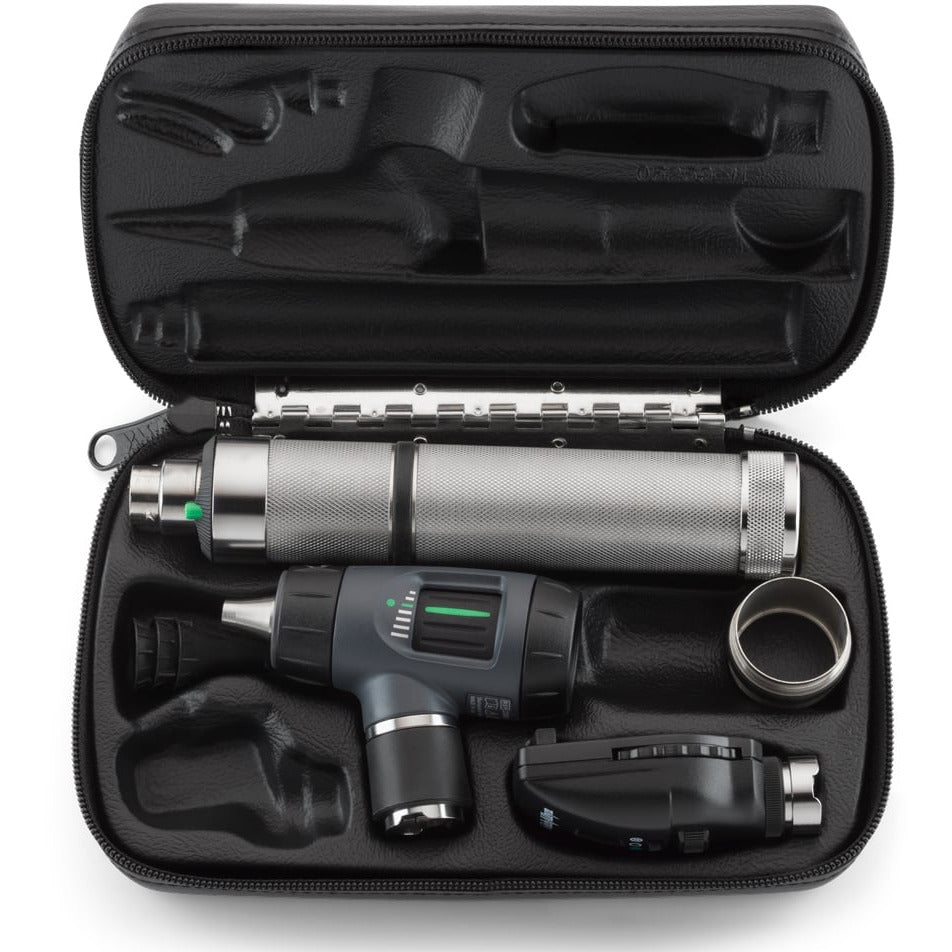 How to claim: Once you purchase this diagnostic set, head over to the Hillrom Welch Allyn website here hillrom.ca/STETHPromo19 and fill in the form. You'll need to include your Stethoscope.ca order invoice.
Please note this is for medical students ONLY, including naturopathic students.

Welch Allyn 3.5 V SureColor LED Diagnostic Set including Coaxial Ophthalmoscope
Set includes:
Coaxial Ophthalmoscope (#11720-L)
MacroView Otoscope with Throat Illuminator (# 23820-L)
Rechargeable 60-Minute Power Handle(s) -- C-Cell Convertible
Hard Storage Case
C-Cell Battery Converter Accessor
Nickel-Cadmium (# 72300) Battery
IEC Plug Type-A
11720-L | Coaxial Ophthalmoscope
LED light for true tissue colour and consistent, long-lasting performance.
The coaxial optics produce a shadow-free spotlight, easier entry into undilated pupils and a larger field of view compared to standard ophthalmoscopes.
6 apertures:

Micro - allows quick entry into small, undilated pupils.
Small - provides excellent view of fundus through an undilated pupil.
Large - general examination of the eye through dilated pupil.
Fixation - graduated cross-hairs for measuring eccentric fixation or locating lesions.
Slit - used to determine levels of lesions and tumors.
Cobalt blue - used with flourescein dye to view small lesions, abrasions and foreign objects on the cornea.

2 filters can be used in conjunction with any of the above apertures:

Red-Free filter - filters out red light for easy identification of veins, arteries and nerve fibers.
Polarising filter - virtually eliminates corneal reflection.

28 focusing lenses with a range of -25 to +40 diopters, adjustable via easy-to-reach maywheel.
Rubber brow-rest prevents scratching of eyeglasses.
Variable illumination strength via the handle rheostat dial.
APERTURE SELECTION DISC
Switch easily between 6 apertures via a disc on the head.
SIX APERTURES
A wide range of practical apertures to select from.
LENS SELECTION DISC
Focus on the fundus, cornea, iris and other ocular structures.
TWO FILTERS
Red-free or polarising filter can be used in tandem with any aperture.
23820-L | MacroView Otoscope with Throat Illuminator
The MacroView Otoscope takes ear examinations to a new level – larger field of view, increased magnification – and you don't need to change your technique.
The Welch Allyn MacroView Otoscope offers:
Twice the field of view – you can see almost the whole of the tympanic membrane without panning
30% greater magnification than a traditional otoscope – from 2.5x to 4.2x
Better clarity – for improved definition of landmarks
Adjustable focusing – suits different lengths of ear canal and compensates for far-sighted eyes
Tip grip – holds the specula firmly in place and provides ejection mechanism for hands-free disposal
Choice of specula – disposable or reusable available in a range of sizes
Insufflation port – for pneumatic otoscopy
Head Only, you will also require a compatible Welch Allyn handle.